Your team is sailing through rough waters near the wind?
It is only a fine line between the optimal performance and capsizing.
How mindfulness can help you keep the balance: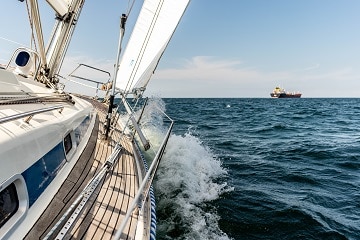 Mindfulness is a lot more than 'just' a buzzword, it works.
The concept is very easy to understand: fully being in the present moment, with complete awareness, free of any judgement. This leads, among other effects, to a clearer state of mind, greater awareness of thoughts and actions, a more relaxed and equanimous reaction to stress or unforeseen situations. Lessening the sensations of stress has proven positive effects on health and vitality and strengthens the resilience.
What is the benefit for employers – beyond a lower level of stress and illness-related absenteeism? Strong and resilient employees make companies strong: they are the driving force behind fully exploring potentials, reacting creatively to sudden changes and disruptions and dealing well with uncertainties.
Despite the rather simple definition of mindfulness it is surprisingly difficult to be mindful during everyday life – old habits die hard. New behavioral patterns feel unfamiliar or even uncomfortable. But that is normal – you do not expect to be a tennis or golf pro after the first training session either, and a few aching muscles are part of the process.
These options are available for supporting your teams to sustain a healthy course with the help of mindfulness:
Stimulating speeches & energizer
Inspiring keynotes of 30-60 minutes are a great opportunity for a taste of mindfulness and its positive effects. Possible settings can be for example health days or other events of your occupational health management.
During a conference or seminar a mindful energizer might be an appreciated break between presentations. 10-15 minutes are enough to reach a state of greater relaxation and refreshed attention.
'Classic' MBSR 8-week-course
Exclusively for your employees on your own premises or online.
There are good reasons why the programme 'Mindfulness Based Stress Reduction' (MBSR) is a long running hit since it was designed in the early 80s. The content is very well selected and composed, aiming at feasible and sustainable change in the life of the participants. Many practical exercises increase the likelihood of transfer into everyday life after the course has finished.
Part of the course is a catching-up 6-8 weeks after the last session which can be extended to a personal coaching session for each participant.
Every organisation is different. A group of sales people in a field crew faces different challenges than a production team or administrative departments.
Once I get to know you and your organisation I am looking forward to developing and putting into practice your individual, made-to-measure programme for the best possible results.
Training: Burnout prevention for managers
When do people move from stress into burnout? How can I detect early warning signals and what shall I do? What are my roles and responsibilities as a manager, towards the team and myself?
This 2-day training answers the questions above and many more with a balanced mixture of input, exchange and exercises for your team leaders.
The content can be tailored individually to your needs, for example in close cooperation with your company health management team.